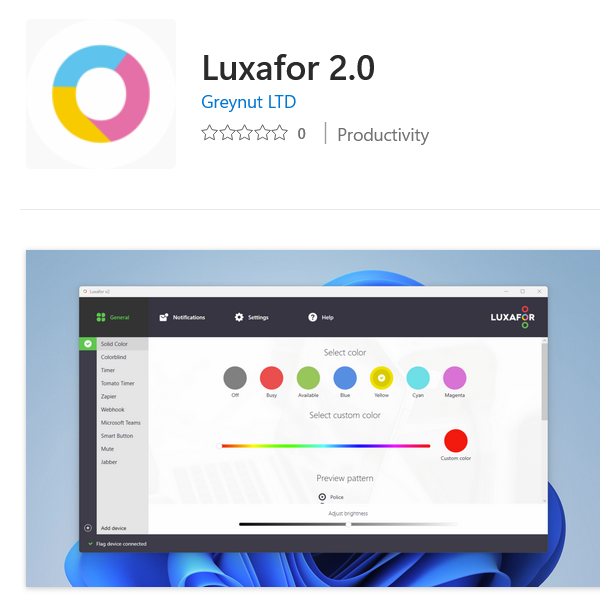 Now you can find the latest Luxafor 2.0 app using Microsoft App Store for your Luxafor productivity tools. With your Microsoft account you can download Luxafor software from the Microsoft App Store. If you have Windows 11 or Windows 10, you can download and install apps from the Microsoft App Store by using a local account. That can be useful for those who don't want to use the cloud and syncing features that come with signing into a Microsoft account.
Apps downloaded from the Microsoft App Store are more secure than other desktop applications, because they are downloaded directly from the Microsoft Store, that is a trusted source to use for our apps including our website.
Luxafor app is specifically developed for Luxafor productivity tools to let anyone take control over distractions and organize workflow to deliver the best results by managing your availability status - showing that you are busy or free using LED light signals.
Feel free to browse and download the app for your favorite Luxafor productivity tools in MS App Store. Use MS App Store for Luxafor software as well as other app stores to get the latest apps for our devices. Access Luxafor 2.0 app, get app updates, and easily manage your Luxafor productivity tools. The Luxafor 2.0 app is available to use on your PC.
LUXAFOR HELPS PEOPLE TO ACHIEVE THEIR GREATEST PRODUCTIVITY LEVELS WITH A WIDE VARIETY OF OFFICE PRODUCTS. LET'S BE PRODUCTIVE TOGETHER!
29/08/2023