Luxafor's Study Finds What The Biggest Productivity Issues Are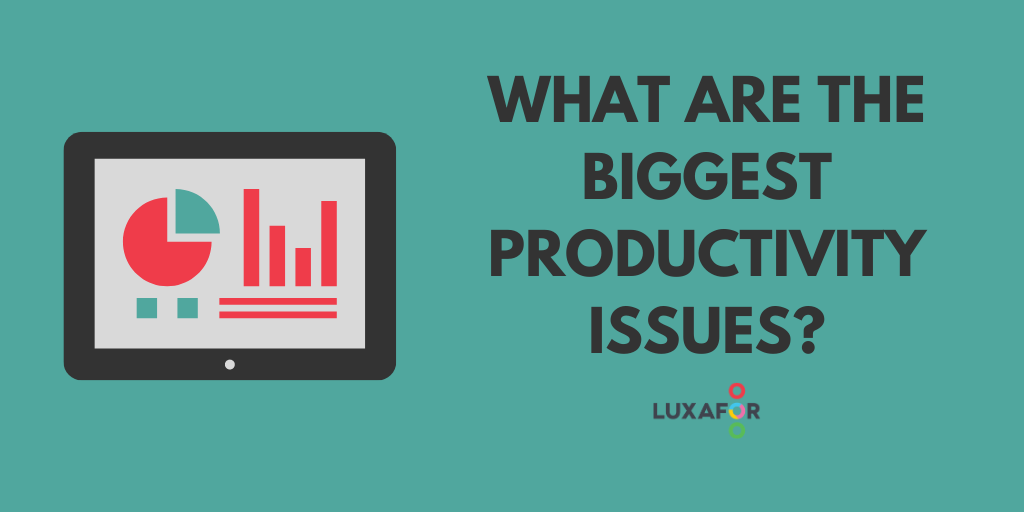 Here at Luxafor we are very passionate about making the work environment productive and stress-free. We know that the best work is done in a workplace where you feel comfortable.
As we are continuously working on new products to help modern workplaces become more productive and we are gathering information on the problems of an open-office environment. Recently we did a study on the biggest challenges at work. We collected answers from 62 office employees to try and find out what the biggest challenges to stay productive were and what causes the most stress at work.
Biggest productivity issues in the workplace
The results of the study show that the biggest productivity issues come from interruptions from colleagues, distractions (online and offline) and noise in the office.
34% of respondents feel that interruptions from colleagues are damaging to their productivity
15% of respondents think that online and offline distractions cause unproductive work

8% of respondents are concerned by the open-office noise and can't concentrate on tasks
Other answers to the biggest challenge in stay productive included having enough communication with those who required the information, but, at the same time, having the time to complete the tasks.
Some said that being alert and able to focus had an effect on their productivity. There was often not enough time to finish all the work. Even more important, switching between tasks and multi-tasking was tiring and was followed by lack of focus and loss of productivity.
Staying productive had a lot to do with the workload on a daily basis. Respondents said that some days, they were extremely busy, while others could be pretty open.
Poorly structured and organized meetings are a big time wasters. Furthermore, our respondents agreed that meetings cause productivity to go down.
"My biggest challenge is to stay focused on my work without letting notifications of Slack or other social networks make noise."
"My biggest challenge is people not respecting the status of my Luxafor light."
"Setting aside sufficient time for real, valuable, thoughtful work."
The main stress factors at work
Deadlines turn out to be the biggest cause of stress at work. Other stress factors are interruptions and not being able to finish tasks.
19% of respondents marked deadlines as the biggest cause of stress.
For 11% of respondents, interruptions cause stress as they can't keep focused on the tasks.
Another 11% of respondents marked that the main cause of stress is not being able to get work done.
For a smaller part of respondents, the most stress is caused by the noise in the office which is usually solved by using headphones.
Furthermore, having multiple projects at the same time and having to multi-task are other popular reasons for stress.
Some of the respondents also mentioned not being in control of your own time. Others mentioned that poor planning and difficulties prioritizing tasks are their main causes of stress.
Finally, huge workload and unopened emails give a feeling that everything is out of control and turns it into a stressful job. This causes the problem of not having enough time for real, valuable, thoughtful work.
"What causes me stress is having too many distractions or starting tasks which are completely disorganized or working with chaotic people."
"What causes me the most stress is a lack of people to whom I can delegate technical work, which means that I am often the only person who can complete a task to the required standard."
"Multiple high-profile projects going at the same time, and te feeling that I am unable to dedicate enough "isolated" time to each one."
We conducted this study by sending open questions by email to office employees interested in productivity. In total, we received 62 answers. The questionnaire consisted of two questions:
1. What is your #1 single biggest challenge with staying productive at work? 
Here are the TOP 5 most popular challenges: 
2. What is causing you the most stress at work?
Here are the TOP 5 causes of stress: 
Willing to create and maintain new habits? Get your free PDF version of the Don't Break The Chain calendar and start today!
Do you want to build and maintain new habits? Get your free PDF version of the Don't Break The Chain calendar and start today!