7 Tips for Fighting Fatigue Working from Home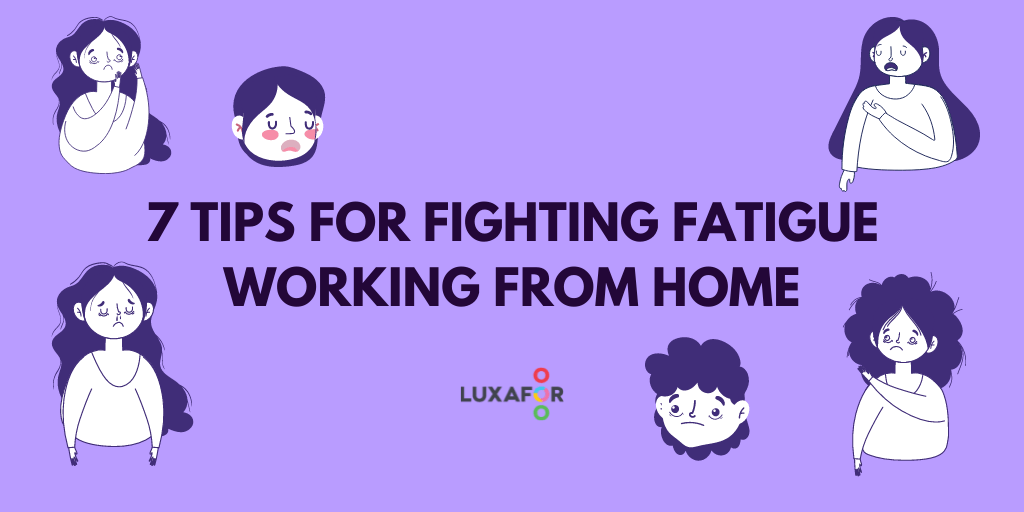 COVID-19 is not only hurting your physical body but your mental health as well. Even if you stay healthy during the pandemic, you are likely to have problems because of the changes in the way you work. You are most probably working from home and trying to finish your job, collaborate, and strive to maintain high performance while facing new constraints.
According to the Society of Human Resources Management, 35% of employees often feel exhausted or have little energy. 32% sometimes have the same feeling. On the other hand, cloud infrastructure provider DigitalOcean had a survey in 2019 and discovered 82% of remote tech workers felt fatigued.
You may discover yourself losing focus on your work and staying productive, especially during video meetings and conferences. You force yourself to pay attention and become impatient or annoyed quickly when your colleague is having technical difficulties.
You notice a change in your sleep pattern. You either wake up late or struggle to fall asleep. A disruption to your usual sleeping hours is a sign of burnout. You lack defined boundaries between your work and personal life, so your body and mind cannot relax for you to have a restful sleep.
Work fatigue kicks in when you do not have the drive or energy to perform your work duties excellently. You lose willpower and motivation to finish the tasks you enjoyed and did better in an office environment.
You used to be excited about working from home. However, since that stint has become longer, you now struggle to get your tasks done. You know you are experiencing burnout on remote work because you no longer finish easy tasks quickly.
Missing deadlines, making mistakes in proofreading services, being absent-minded, and feeling aloof during meetings and video conferences are signs that you have work-from-home fatigue.
Struggles in Decision-making
You find yourself not being able to make decisions quickly. You cannot decide what to prepare for dinner. You feel sluggish or unwilling to respond and lack the mental capacity to weigh alternatives and decide on the best action.
If you miss the Friday night drinks or being the social butterfly at work, you may take it out on your coworker or a family member. You feel exhausted about working from home and want to get back to office work. Being short-tempered with your colleagues or family members is a sign that you must take a break.
Fatigue may be getting the better of you if you are not going anywhere come Monday morning. Even if you go out on errands frequently, you start to have everything about your home. You dread getting back after you finished your trip to the grocery.
How to Fight Fatigue Working from Home
As the world continues to battle the COVID-19 pandemic, you can consider these seven strategies to fight technology exhaustion and work-from-home stress:
Take a Break from Video Conferences
Instead of having your usual Zoom discussions, you may opt to call one person at a time. Video calls can split your attention, and having a different task for your brain can be the change of pace you need. You may also schedule a conference call instead.
You may talk to your supervisor or colleagues about having conference calls to protect everyone's energy levels. You may suggest it as an experiment, depending on the discussion topic and group size.
Give Your Surroundings a New Life
Changing your work conditions or scenery can break up the monotony of work-from-home routines. You will feel excited about exploring co-working spaces or listen to musical film scores or classical music as you work.
You may be a master in writing simultaneous emails while participating in a conference call. However, your multitasking can require more energy, and it can increase your stress and fatigue because these tasks demand your concentration and attention. You may want to be present and mindful of one activity. You can close all other browser tabs and extraneous applications, keep your mobile phone out of reach, and turn off distractions to boost your concentration on one activity.
Get Rid of Your Tangible and Digital Clutter
You got to have some sanity back. Why don't you clean your email inbox and keep only those that are essential to you? You may use an app that uses AI technology to save non-critical messages into the "slow lane" for checking at a more convenient time. You can also clear your workspace to inspire your mind.
Changing demands and expectations and creatively approaching meetings will give you the space to rest and recover. You can substitute some sessions with a detailed email or combine repetitive meetings.
You may experience stress from work because you do not balance your activities before and after office hours. You do not have enough time for exercising, healthy eating, and socialization. You can start your day with physical activity like doing some household chores or jogging around the block.
Immediately rushing to your workspace and logging onto your computer can make your day stressful. You need an early morning endorphin release to reduce stress and blood pressure.
You must pause between your meetings, which often start and end on the hour. Your face-to-face meeting pre-COVID may have a brief break to reset, which can mean walking to another venue.
If you are working from home, you may walk away from your home office, shake out your body, take deep breaths, stretch, rest your eyes, or step outside for a while to reset your mental energy.
You can reexamine the length of your meetings. Instead of an hour, can you make it to 45 minutes only? The extra 15 minutes can give you and your colleagues a quick break before the next video conference.
If you prefer to have better working habits, you may divide your work hours into manageable blocks with in-between breaks. Top British Essays recommend the Luxafor USB-powered Pomodoro Timer is an advanced way of keeping yourself focused for work sprints and short rests without the distracting sound effects. You can use this tool with the famous Pomodoro technique by setting your custom timers for tasks to expand your productivity. You may organize your daily workflow with time limitations to remain focused during working hours and provide better performance.
Do you want to build and maintain new habits? Get your free PDF version of the Don't Break The Chain calendar and start today!
Do you want to build and maintain new habits? Get your free PDF version of the Don't Break The Chain calendar and start today!