8 Productivity Secrets of Successful Entrepreneurs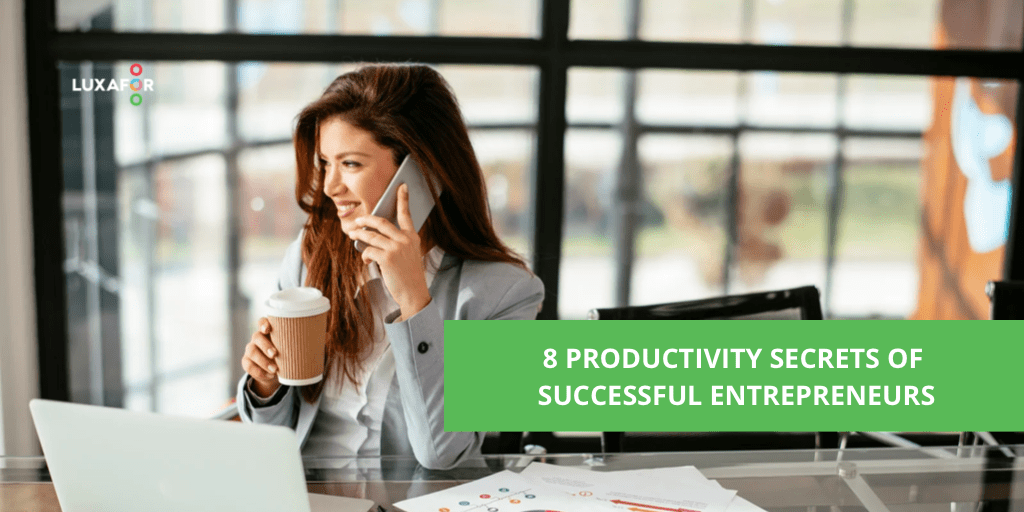 All the top entrepreneurs in the world know a secret, and it's time you knew it too. The key to success lies in being more productive. These 8 productivity secrets of successful entrepreneurs will help you master the art of productivity in both your personal life and your working life.
Successful entrepreneurs understand the value of continuous learning. When are you too old to be an engineer? When is it too late to gain new skills? Never! A true entrepreneurial spirit is always seeking new knowledge and insights.
Personal development is just as important. There's no such thing as 'soft skills'. All skills, including communication, time management, problem-solving, and even conflict resolution, are viable skills. Gaining new relevant skills for your particular industry will set you up for success.
Reach out to leaders in your niche who personify entrepreneurial success, and you'll benefit from their mentorship. Consider online courses or in-person workshops. Whichever fits best into your schedule.
2. Time Management Mastery
Time waits for no one, so make the most of every second. Time management is crucial for entrepreneurs. There are many effective time management techniques, you just have to find the right one for you. Start with identifying your priorities, then use whichever productivity tools you find most helpful in maintaining a structured schedule to meet your goals. This can be just as effective in your personal life as your working life.  
Want a healthier work-life balance? It's all about mastering your time. The Pomodoro Technique has been helping entrepreneurs from all walks of life to better manage their time, for decades. It involves breaking your tasks down into timed intervals, with regular short breaks. But there are many different methods renowned for boosting productivity by focusing on time.
3. Goal Setting and Planning
We all have goals, but they're not always clearly defined. So, the key to achieving your goals is to first clearly identify them. Set actionable goals, both short and long-term. Some will be more personal; some will be work-related. They all matter, and they all deserve careful planning. As you achieve each objective, you'll realize how productive you are becoming. When you break them into bite-sized, manageable tasks, even your loftier goals will seem more achievable. Most of the top entrepreneurs know the value of setting SMART goals, which are Specific, Measurable, Achievable, Relevant, and Time-bound.
4. Delegation and Outsourcing
Don't hesitate to delegate. Too many entrepreneurs fail to grasp this concept and feel the need to do it all. Successful entrepreneurs know that to stay focused on core business activities, it's sometimes necessary to outsource certain activities. Freelancers and virtual assistants are the answer to getting the small stuff out of the way. So, you can set your sights on the big prize.
Don't feel guilty about needing help with peripheral work. Delegating non-essential tasks allows you to maximize your time and skills targeting high-impact activities. A solid team of background staff, even temporarily, will give you the freedom to be a trailblazer.
While it's no secret that technology can be useful, up-and-coming entrepreneurs need to stay on top of technological trends. Technological tools will enhance your productivity in many ways, but the tools you used yesterday may not be the best for your tomorrow.
Constantly revise the communications platforms, project management software, and productivity tools that you use. They are constantly evolving, and so should you. New AI technologies are helping entrepreneurs worldwide increase their efficiency and productivity. Stay in the loop, and keep up to date with these emerging technologies, to stay on top of your game. No industry can't benefit from automation tools and AI capabilities.
6. Mindfulness and Work-Life Balance
It takes hard work and dedication to start a business from scratch. Unfortunately, long hours can take their toll on your work-life balance. To stay as energetic as possible, learn to know when it's time to take a break and focus on other priorities.
A healthier work-life balance can be achieved with the right mindfulness activities. Think about what makes you feel most centered and calm and build an activity around that. It could be getting out in nature or participating in sport.
There's no doubt that hard work and long hours are part and parcel of starting a business. But you must honor all areas of your life to prevent stress and mental burnout. Make time for work and play, for the office, and family.  Find the balance, and you'll find the energy for more fruitful labor.
7. Adaptability and Flexibility
Things change, people change, the industry you're in will change, and you have to learn how to change with them. Learning how to be more flexible and adapt to new developments, will teach you to be more productive. Scott Leune didn't despair when a serious injury forced him to give up a promising dental practice. He founded a successful dental seminar business. James Dyson endured the humiliation of over 5000 failed prototypes before he achieved success as a leading manufacturer of bag-less vacuums. And there are examples of this courage in the face of adversity, in all industries.
Many entrepreneurs know that to be dynamic, efficient, and successful, you have to sometimes navigate uncertain waters. In both your work life and your personal life, adaptability will help you to survive anything life throws at you.
8. Networking and Collaboration
Perhaps one of the top traits of successful entrepreneurs is their willingness to learn from others. This can easily be facilitated through networking and collaboration events. The strong professional relationships you build with your peers will boost not only your individual productivity but also the group as a whole. There are countless avenues for inspiration and connection. Research the networking events and industry conferences in your area.
Don't let distance be a deterrent. Book an online event and take advantage of all the knowledge and wisdom to be had through webinars. When you start to connect more with other entrepreneurs and hear their success stories, you'll be motivated and inspired to be more constructive and inventive, yourself.
In this article, we have covered the productivity secrets of successful entrepreneurs. If you follow these tips you can also achieve more profitable and innovative results in your career.
First, don't underestimate the benefits of personal enrichment courses, whether it's professional or "soft" skills. Next, breaking your schedule up into bite-sized tasks helps you master time and get more done. To pursue your goals, be sure of what they are, and learn to delegate and outsource for help with the small stuff. This is all a lot easier when you embrace the latest technology. But don't get so caught up in work that you have no work-life balance. Mindfulness activities can help you recharge your body and mind. Life as an entrepreneur isn't without ups and downs, so try to become more adaptable. Learning to weather life's storms is essential for success. You'll get there even quicker if you collaborate with like-minded peers.
Pursue new skills, manage your time wisely, and identify your goals. Embrace new technological advances, practice the art of delegation, and learn to adapt to life's changes. Learn to collaborate with others, and you'll become more creative and inspired. This makes a healthier work-life balance possible – reducing your stress and freeing up your potential. But introducing more structure into your day is the top secret to increasing your efficiency and becoming more innovative than ever before. And that is the hallmark of any successful entrepreneur
LUXAFOR HELPS PEOPLE TO ACHIEVE THEIR GREATEST PRODUCTIVITY LEVELS WITH A WIDE VARIETY OF OFFICE PRODUCTS. LET'S BE PRODUCTIVE TOGETHER!
Do you want to keep a track of your tips completion? And maintain new habits? Get your free PDF version of the 100 Productivity Tips you need in your life in 2023 and start today!
Do you want to build and maintain new habits? Get your free PDF version of the 100 Productivity Tips and start today!