Work Smarter, Not Harder – 5 Productivity Tips For 2022
Let's admit it – 2021 has been quite a rough year for all of us. All the stress and uncertainty of many things has had a toll on our mental and physical health, and therefore on our productivity as well. 
So in this year's last blog post, we'd like to share 5 more simple, yet highly effective tips and awesome gadgets, so you can start your new year ambitiously!
1. Turn off your notifications
You've probably noticed that those little *ting* sounds throw you off, making you lose your focus. Your curious self just wants to look at what that notification tells you – is it a message from a friend? Did you gain a new follower?
Dividing your attention will lead you nowhere. That's why you just have to turn off your notifications while you work at something important. You don't have to put your phone on airplane mode or turn off your notifications for a whole day. 
Just set a certain period of time for your deep work session where you don't allow anyone and anything to distract you from the task, and then take a break, allowing yourself to check your notifications. If you're worried that you might miss something important, just remember – in a case of emergency you'll most probably receive a call. 
You might find it helpful to use some kind of focus app or website blocker to help you focus better. Try out apps like Forest for your mobile device. When you open this super cute app, you can plant a tree and put your phone away for at least 25 minutes. If you take your phone sooner, your tree will just die. Using this app daily, you can grow an entire forest – isn't that just adorable?
You can also use an app like Freedom that works for all devices – from phones to computers. In this app, you can set a blocklist with as many websites and apps as you want, and then schedule your session. When your session has started, you can't access the websites you put on your list, so you are just forced to focus on your work and nothing else. An amazing bonus – this app also offers ambient background noises to help you focus better.
2. Use the Pomodoro technique
Have you heard of the Pomodoro technique? Essentially, it's a technique for shorter tasks (or even the big ones if it's possible for you to chop them into smaller portions. It works like so: 
put on a timer for 25 minutes, and focus on your tasks until it goes off;

then take a 5-minute break – stretch your muscles, do a breathing exercise, relax your mind;

repeat the process.
Try Luxafor's Pomodoro Timer
There are some useful Pomodoro (also known as Tomato) timer apps out there, but we've found that they might not be the best option if you're trying to limit access to your phone while working.
That's where the Luxafor Pomodoro Timer comes into play. This small, USB-powered digital device is designed to help you create better working habits by splitting your workday into manageable blocks without forgetting to take a break.
You've probably been in a situation where you're so focused, anything unexpected can scare the living thing out of you – the same goes with many productivity apps on your phone. But that's not the case with Luxafor's Pomodoro Timer – it works perfectly without making those annoying sound effects that would distract or even scare you.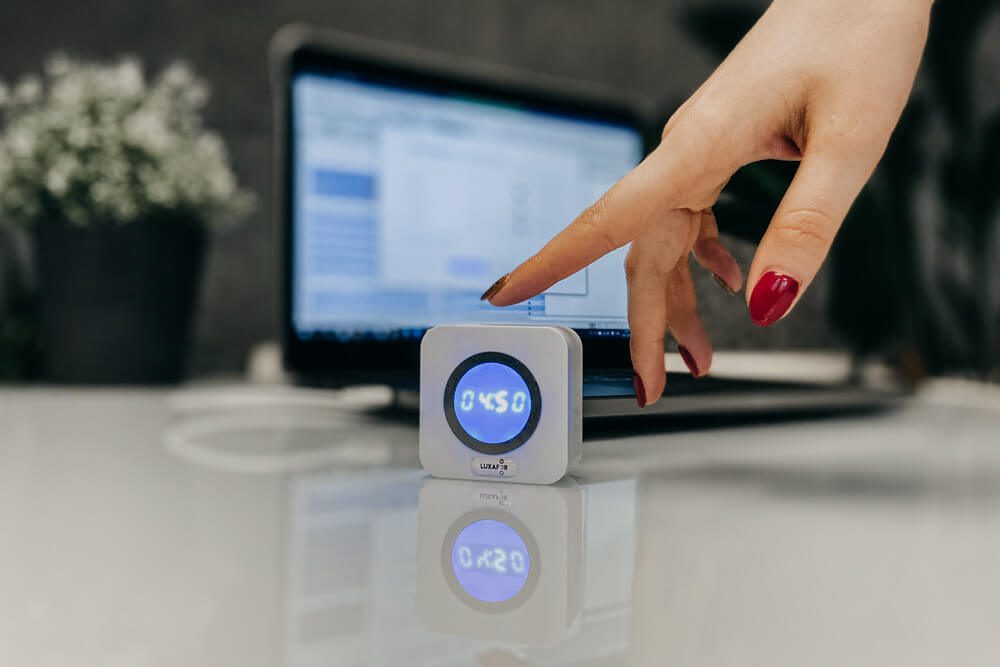 Our device works like any tomato time out there – but better! You can use it the classic way:
Pomodoro time is pre-set to 25 minutes and is backlit red, and the beginning is indicated with a Blue Flashes pattern and a vibration;

Short Break is pre-set to 5 minutes and is backlit yellow, and the beginning is indicated with Yellow Flashes pattern and a vibration;

Long Break is pre-set to 15 minutes and is backlit green, and the beginning is indicated by Purple flashes pattern and a vibration.
Or you can customize it to your own liking:
set up the length of Pomodoros, Short Breaks, and Long Breaks;

choose from a variety of patterns to play whenever a Pomodoro or a break starts;

define how many cycles it will take before the Long Break comes;

pick the color of your choice for the Pomodoros and Breaks;

adjust the brightness of LEDs to suit your needs.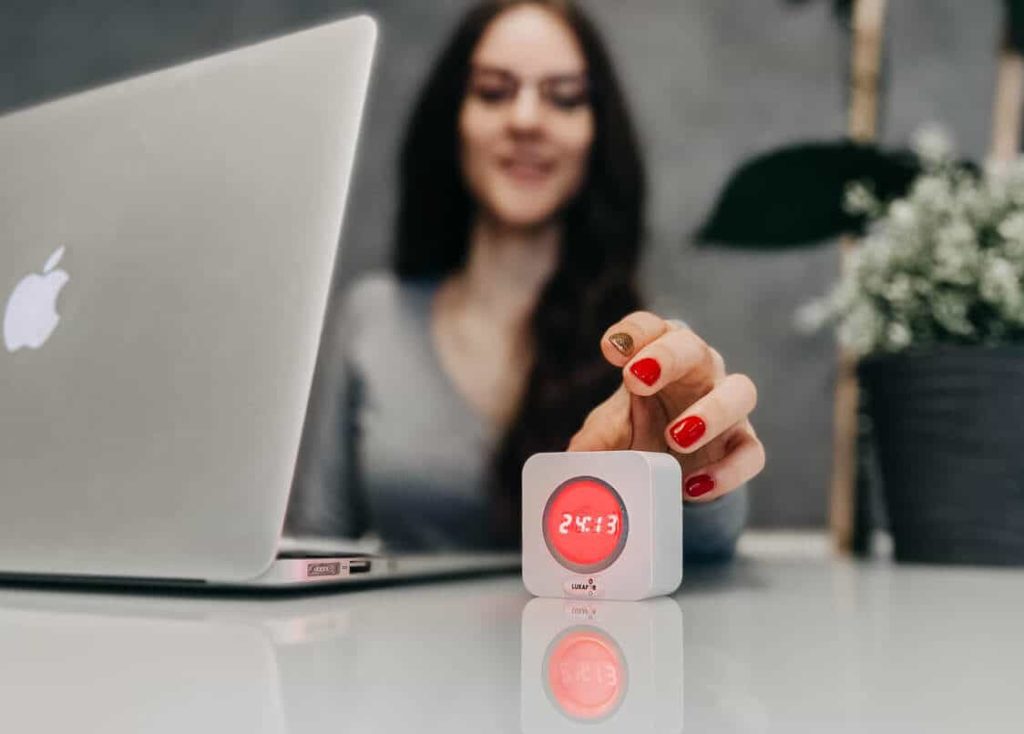 It's really that simple! This device lets you make your deep work sessions more enjoyable. And – let us tell you about one of the best features – you can activate your timer with a single touch! It's time for you to get your productivity back – do it the smart, sophisticated, and efficient way with Luxafor Pomorodo Timer!
3. Choose the right music for your task
Did you know it is scientifically proven that music can improve our focus, boost our mood, and manage stress? Though, it is important to choose the right type of music for your task. 
For example, music with many lyrics will only distract you, if you're working on a task where you have to think a lot. But if you have to do more repetitive and boring tasks, upbeat music might be the right choice for you. 
In fact, we've covered 7 types of music for different tasks in our blog article, so feel free to check it out and find the best genre for yourself!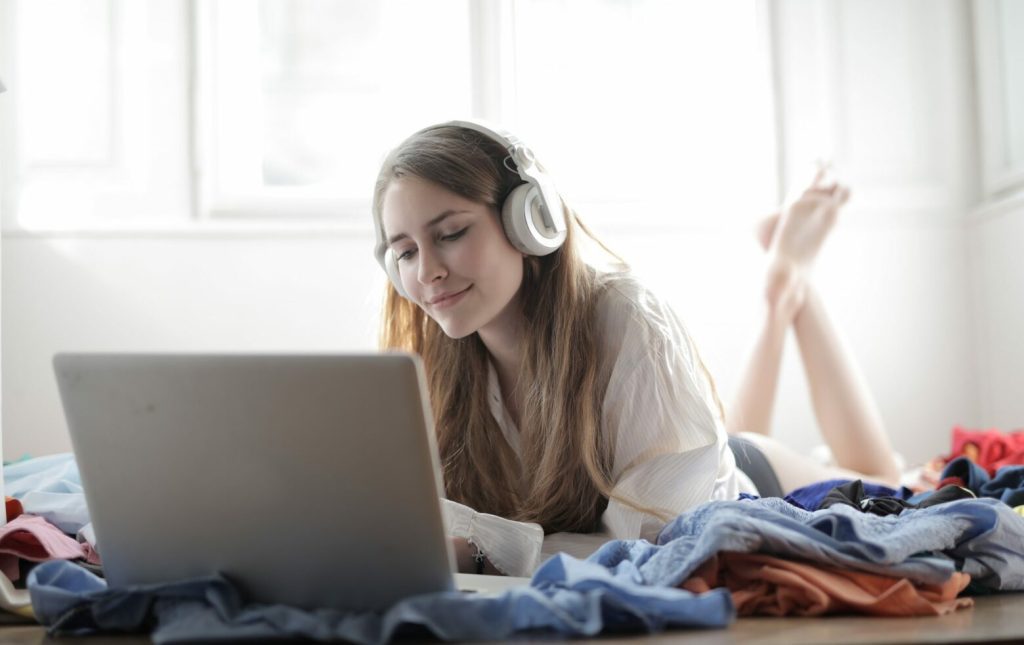 This one might seem like a no-brainer, yet still many people forget to move their bodies during the workday. Studies show that a quick walk in a green area, like a park or a forest, can improve our focus, reduce blood pressure as well as lower stress levels.
If you can't access any green area (for example now, during the winter) just look at some beautiful photos of magically green gardens – it will work wonders in boosting your mood and improving accuracy. 
5. Switch to paper and pen from time to time
When was the last time you wrote something by hand? Probably a long time ago. But writing things down by hand on paper can actually allow us to focus better and improve our memory. 
Of course, in this digital age, there are many tasks that you just can't do on paper but start with simple tasks, like creating a to-do list. Or, if you're going to a seminar or a presentation, take notes by writing them down on paper. You'll notice that you can easier remember important things, and working off-screen for even a small period of time will let you rewind a little. It's totally worth it!
Let's make 2022 the most productive year
Sure, the past few years haven't been very friendly to us, but our life is in our hands – we have all the power to make it as great as we can and want to! Pin this blog post to your browser bookmark's bar, so that you always have these 5 simple productivity tips at hand!
LUXAFOR HELPS PEOPLE TO ACHIEVE THEIR GREATEST PRODUCTIVITY LEVELS WITH A WIDE VARIETY OF OFFICE PRODUCTS. LET'S BE PRODUCTIVE TOGETHER!
Do you want to build and maintain new habits? Get your free PDF version of the Don't Break The Chain calendar and start today!
Do you want to build and maintain new habits? Get your free PDF version of the Don't Break The Chain calendar and start today!