Luxafor Sofware Update Has Added New Features
Good news everyone!
We have finalized our new Luxafor software update for Windows and we would like to share the new features we have added taking into account your feedback. Big thank you to all who had the time to send us your thoughts and suggestions on Luxafor!
In addition to the previous features, we have added Timer and Pomodoro. Now you can schedule your tasks with Luxafor to make most of your time.
We have added the possibility to adjust brightness and add hotkeys for better functionality. Overall the software has become more user-friendly and intuitive. If you wish to start using the new software you can download it on our web page here.
Here is a quick look at all the features
In the General section you can choose in which mode you want to use Luxafor: Solid Color, Timer, Pomodoro or Desktime. Each mode takes control of your Luxafor, so only one can be active at a time.
You can switch colors manually depending on your needs. The red light may indicate that you're busy and can't talk. While the green light would signal that you're open for conversations.
You can define other color meanings between your colleagues to signal that you are on a call or working on a specific task.
A custom color can be chosen from 16M available colors.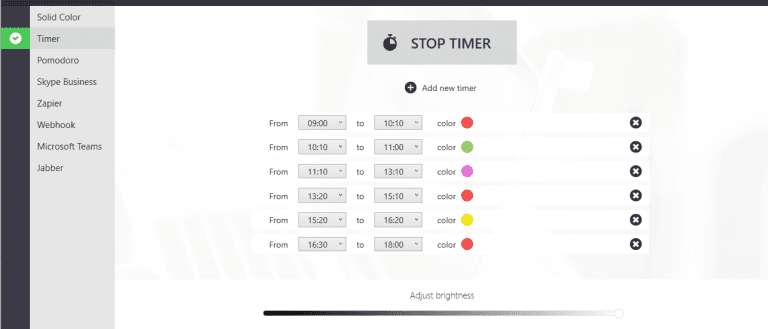 Each person has their own time in which they are most productive. Mornings, the window between 9:00 and 11:00 a.m, are generally the most productive time for workers overall but not for everyone. Determine your optimal productivity times and set up Luxafor timer so no one disturbs you during your peak work hours.
With the Timer you can plan and schedule your tasks throughout the day. Set times when you can't be disturbed and when you're available. Just press 'Add new timer', input the times, choose a color and Luxafor will switch the lights accordingly.
Press 'Start Timer' or 'Stop Timer' to turn on or pause the Timer.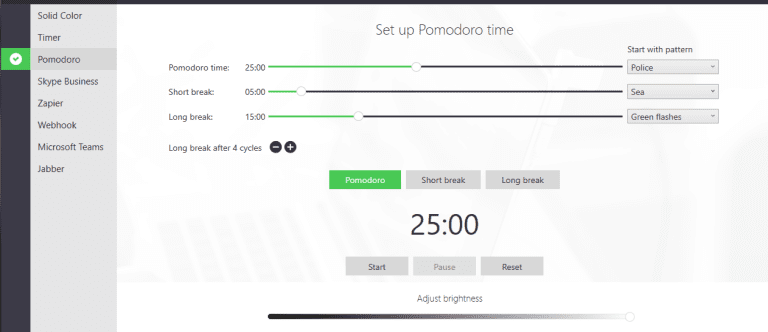 Pomodoro is one of the most popular productivity methods.
The main concept behind the technique is to work in blocks of time – typically 25 minutes long (called Pomodoro sessions) – followed by a 5-minute break. When you complete four Pomodoros, it's time for a longer break of 20 to 30 minutes. The cycle then repeats.
It aims to provide maximum focus and creative freshness and allows to complete projects faster with less mental fatigue.
Luxafor allows you to change Pomodoro time and length of breaks to fit your work pace. It notifies you of the beginning of a session with a notification pattern of your choosing.
Luxafor will automatically turn red when you are on your Pomodoro session and not to be disturbed. It will turn green when you are on your break.
It is possible to Start, Pause or Reset your Pomodoro sessions. Using Pomodoro together with Luxafor will allow you not only keep track of your sessions but also keeps others from distracting you.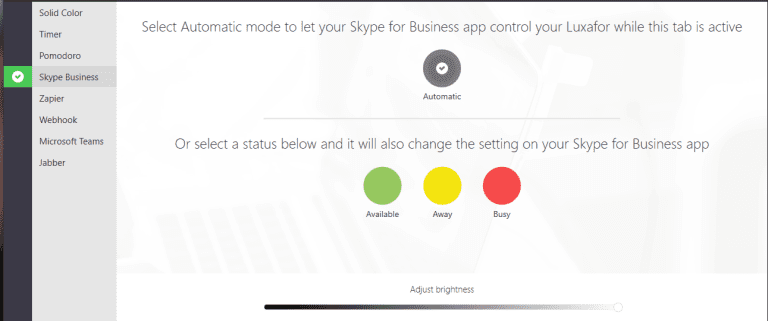 With the latest update, we have also added Luxafor integration with Skype for Business in Windows version. When activating 'Skype Business' section your Luxafor light will synchronize with Skype for Business status.
You can also manually change the light in Luxafor app and it will change your Skype for Business status.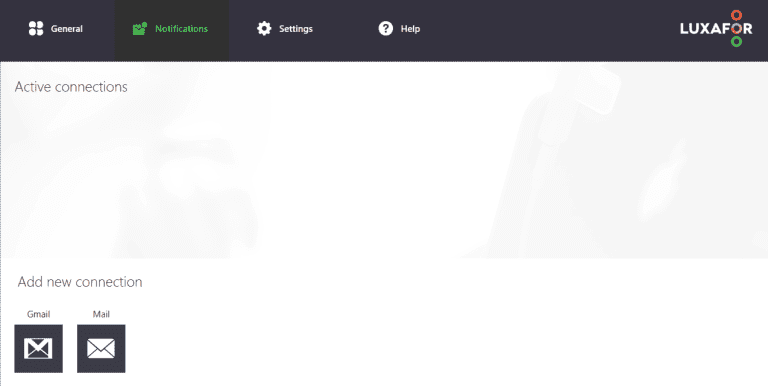 Receive alerts about incoming emails instantly. To connect your email choose 'Gmail' if you have a Gmail account or 'Mail' for any other email.
To set up a connection, fill out the required fields in the pop-up. You can set notifications to blink when there is any unread email in your inbox or to blink only on the arrival of a new email.
You can even set up notifications for emails containing specific keywords. For example, receive notifications only when you receive an email containing the word 'order' to keep up to date with your sales.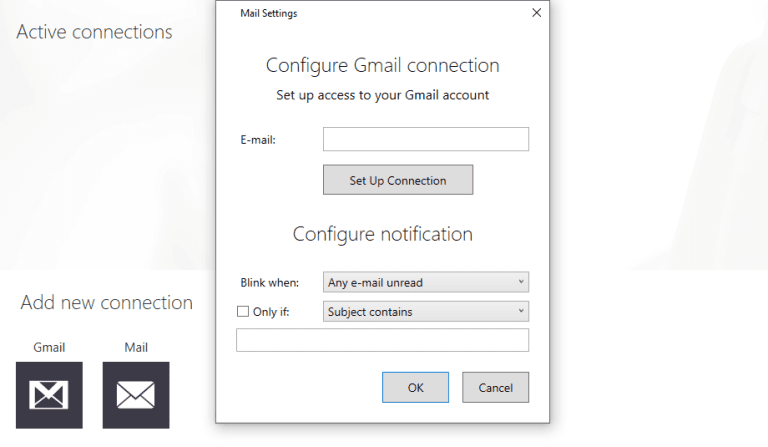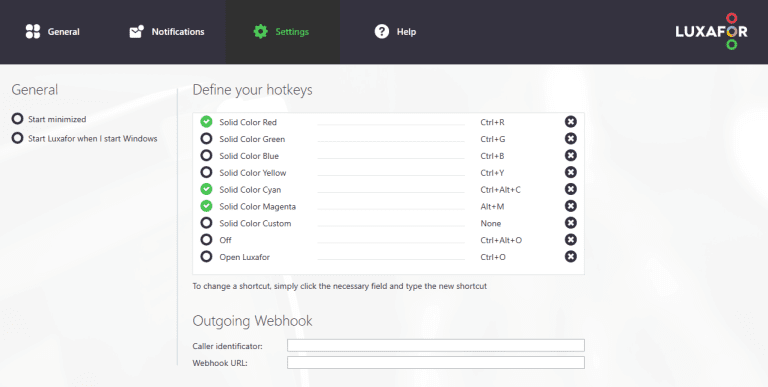 In the Settings section you can define your hotkeys. Switch colors faster without opening the application. To add or change shortcut simply select the necessary field and type in the shortcut you wish to use.
If you wish for the application to start together with your Windows just select 'Start Luxafor when I start Windows'. You can choose to start Luxafor application minimized. In this case, Luxafor application will be available in the system tray (bottom right of your screen).
All the features are available to choose from the quick menu as well.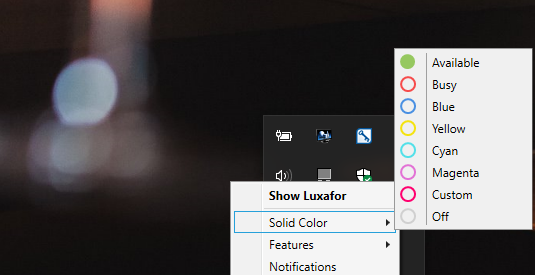 Luxafor is a productivity tool that makes it easy to stay focused on tasks at hand. Notify your co-workers when you're immersed in work and can't be bothered, or stay on top of what's important by receiving instant notifications.
Luxafor products are developed and manufactured by GreyNut Ltd. in Europe. For any questions, feedback or comments, please contact Luxafor support at support@luxafor.com 
Do you want to build and maintain new habits? Get your free PDF version of the Don't Break The Chain calendar and start today!
Do you want to build and maintain new habits? Get your free PDF version of the Don't Break The Chain calendar and start today!