Cracking the Code of Corporate Productivity: Strategies for Maximizing Efficiency and Success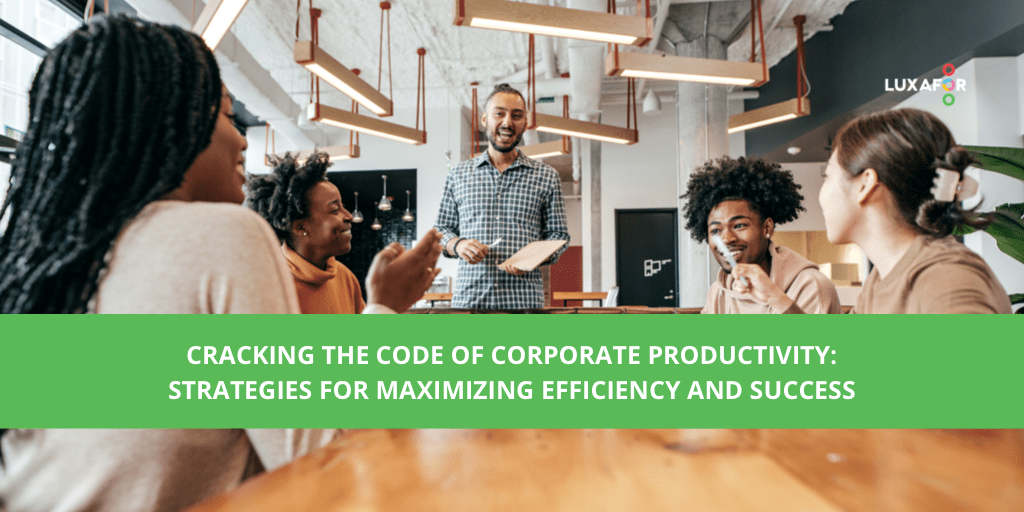 When thinking about corporate productivity we first must focus on our career as an individual as well as a part of a team and company – it all starts with a person who is a part of a bigger picture. Career is a purposeful activity of a person for the development and expression of their competences throughout life. Career development is a life-long process of managing an individual's personal life, learning and working, which is undoubtedly an essential part of corporate productivity – which we each create with our involvement, abilities and activities.
During the last decade, issues of good corporate governance have gained new relevance. The concept of good corporate governance and corporate productivity refers to processes that contribute to the efficiency of the company's operations and long-term value growth. However, today's companies do not operate in an isolated environment and are not immune to the influence of external forces.
Have you ever faced distractions at work?
If so, we may have a solution for you.
Increasingly CEOs, investors and managers are turning to questions of growth, social responsibility and sustainability, which are gaining importance as much as the company's financial performance. These trends have a direct impact on the corporate productivity of companies, forcing to reevaluate existing processes and create new strategies to maximize efficiency expanding the concept of corporate governance and changing the traditional views corporate productivity. 
The responsibility of the company's management is to invest in education and the social welfare of employees in order to create appropriate conditions for business growth and competitiveness. Companies can implement support programs and demonstrate certain social and business standards in their operations in order to motivate employees and enhance efficiency. We have chosen some relevant strategies for promoting corporate productivity, guided by current trends in the business environment and job market, as well as in the personal development sector:
Productivity and evaluation
The level of productivity is influenced by our motivation and involvement, or the feeling of belonging to a certain group – the corporate environment. However, when looking at corporate or workplace productivity in more depth, it is related to both our evaluation and internal satisfaction at our workplace.
In order to increase your productivity level, you must be able to understand your professional goals, achievements and change the influence of external factors and habits. Internal self-confidence is influenced by a set of external factors – starting with the evaluation of others, our own fulfilled or unfulfilled sense of satisfaction and our motivation. It is necessary to start with self-evaluation.
Assess your skills and strengths. Understand in which parts of the work and specific areas you are competent. For a more objective point of view, you can ask for feedback from your manager, colleagues, mentor or friends and family.
Career growth opportunities
Gaining new knowledge is an opportunity not only to evaluate yourself and find out the strengths and weaknesses of your competence, but also to ensure the desired next step in your career. We live in an era of knowledge and creativity, where each person's abilities have a great contribution and it is constant career growth that can help turn ideas into reality. Everyone has the opportunity to choose their professional development path to success, regardless of the situation, industry, age or speciality – you just need to find motivation within yourself.
Courses, seminars, networking events and exchange of experience can provide a valuable path to gain new knowledge as well as career growth potential. Everyone has the chance to apply for business seminars and choose the right qualification enhancing program that suits them best, from accounting and marketing to psychology and communication. Many professional educational institutions offer a wide range of courses, with the possibility of acquiring knowledge and gaining new professional skills.
Did you know you can easily show your colleagues when you're busy?
And eliminate the main cause of lack of productivity within the office environment.
Career planning is a process in which an individual independently or in cooperation with others (family, employer, career counselor, etc.) makes a decision for the development of his career in a certain period of time. The strategical goal setting is the process of determining the individual actions and objectives that you may need to achieve the educational, professional success. This process can be done by an individual alone or in collaboration with someone else.
Setting career goals and developing an action plan is an integral part of future planning. In order for the plan to be realized, there must be clearly defined goals. Smart goals should be formulated according to your career aspirations and skills, it should be realistically achievable within a certain time frame. A targeted development strategy in career building will ensure real progress towards achieving goals. Goal formulation is the first step to the planning process, the next step is to define the activities or actions to be taken to achieve the goal.
Promote productivity with trainings
As the situation in the job market has changed rapidly due to the technological advances, it is expected that the issue of employee motivation and corporate trainings will take on greater importance. This is also recognized by employers who do not hesitate to improve the qualifications of their employees through various trainings and courses for employees to become experts in their field.
It is the suitable skills and productivity of the workforce that are currently the most pressing problems of the job market, therefore entrepreneurs are ready to invest in the education of their employees in order to remain competitive. Corporate seminars and trainings ensure that the company's employees acquire valuable knowledge and skills at the same time, which later help to improve the company's corporate productivity. It is especially important to ensure this now, when a large number of employees work remotely or use the so-called hybrid model and need flexible approach to deliver the best results.
Luxafor Flag busy light
Tell everyone you're busy or free with red and green;
Eliminate distractions;
Achieve deep work by controlling your workflow.
When striving for corporate productivity, think about the development of your career, as you need to be clear about what exactly you want to achieve. Career development is not something that happens on its own. It is necessary to work on it, and it is often helped by a specific career development plan with a strategic direction in further professional development. Your personal career development plan should include professional goals for the coming years and the activities to achieve them.
Career development requires a personalized strategy that works best for you and your company. It consists of an objective assessment your work as well as long-term and short-term goals related to work. At each stage of the development process, the employee's strengths and professional aspirations in the future should be evaluated. Continuous professional development and the development of new skills is of the essence, so training is a good step on the path to success.
The ways of acquiring the skills necessary for career growth can be different, they can vary in different industries and companies. It's definitely worth looking at the courses and trainings you could take to improve your qualifications. Perhaps you can discuss with the manager about the company's financial support for professional development.
LUXAFOR HELPS PEOPLE TO ACHIEVE THEIR GREATEST PRODUCTIVITY LEVELS WITH A WIDE VARIETY OF OFFICE PRODUCTS. LET'S BE PRODUCTIVE TOGETHER!
Want to structurize your routine and become more productive? Get your free PDF version of 30-60-90 Productuve Day Plan now!
Want to structurize your routine and become more productive? Get your free PDF version of 30-60-90 Productuve Day Plan now!